29 October 2018
Received an email today from Peter Dent. Peter, an instrument fitter, came to us from the 86th entry. Peter mentioned the death of Peter Pope in May 2013 and the fact that he and Peter were at the sames Forces school in Germany; they had previously discussed their time in the RAF on the school's web site.
---
21 October 2018
At a meeting last Thursday morning towards the end of the 87th entry reunion in Buxton, the proposal by Tony Moss that the 2019 reunion should be held in Norfolk was agreed. A reunion date of on or around the 17th September was also agreed. If necessary the reunion location could be in the wider area of East Anglia.
---
17 August 2018
Information received that this year's reunion will be held now in October as rooms are cheaper than September. Booking made for four night period from 15th October to 19th October in the Best Western Lee Wood Hotel in Buxton, Derbyshire. Contact Jim Thompson if you have not had an email from him with price and booking details. The reunion dinner is to be held Tuesday 16 October.
---
29 July 2018
Discovered today while checking on-line that Victor Colin Hosking, Inst Fitt G, had died in South West Dorset in 2006. That was not long after the late Michael Rodd set off to find Vic in Michael's home town of Weymouth in South West Dorset as reported here on this 87th news page:
"A two-pronged trace has been applied to Vic Hosking via the electoral role and RAF PMA. Michael Rodd, who lives only a couple of miles away from the likely address, has volunteered to check if Vic really lives there. On visiting the address, unfortunately Michael found that Vic had moved leaving no forwarding address. 27/12/03 "
---
28 July 2018
Discovered today while checking on-line that Barrington (Barrie) Edrich, Inst Fitt G (from the cricketing family) had died in Cheltenham in 2006.
---
13 July 2018
Discovered today from his widow that Charles Davis (Eng) had died in May 2012. I had visited Charles in 2010 at his home in the Folkestone area; Charles then came along to the
2010 triennial reunion
at Halton
---
13 July 2018
Summer lunch being planned as in
2016 in Bridgwater at Bower Inn
on day between 6 August and 17 August, the day depending on members' availability. Email has gone out to members in South West, but all are naturally welcome.
---
26 May 2018
Our annual reunion this year will be held in mid September in the Midlands as decided at last year's reunion. I shall post further details when available
---
26 May 2018
Had a chat today with "Lofty" Mike Smart,
he of the size 14 boots
, who is still living in Norwich and is very active in RAFA. I was amazed to hear that 2-3 years back big Mike had a heart transplant at Papworth and all is well.
---
27 October 2016
Next Year's 87th reunion will be held in the beautiful countryside around Halton, given that it will be 60 years since we arrived there for our apprenticeship. The reunion dinner itself will hopefully be held at RAF Halton as we did for our 50th anniversary in 2007.
---
1 October 2016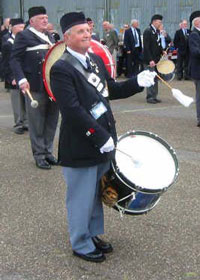 I am sad to have to tell you that Michael Rodd (Armourer), who lived in Weymouth Dorset, died early in September 2016.
Mike is shown here as a drummer in the Halton Golden Oldies at the 2007 Halton triennial reunion. Michael had also attended 87th annual reunion dinners in 2001, 2004 and 2007.
---
30 August 2016
See the photos from the 2016 reunion in Cork, Ireland
---
20 August 2016
The pub lunch last Tuesday in Bridgwater Somerset for 18 members of the 87th, mostly living in the south west, plus partners, went very well. See the photos
---
25 July 2016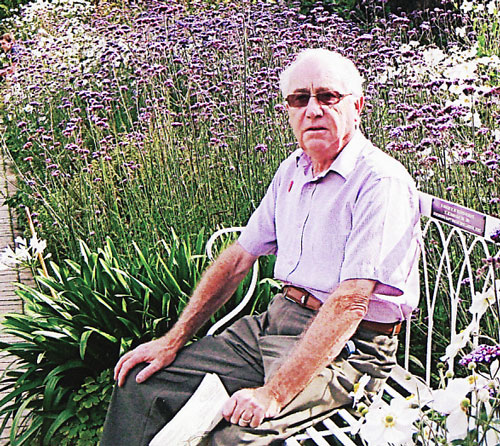 I am sad to have to tell you that Mike Campbell (Airframe), who lived in Lytham St Annes, died last Friday 22 July. In the past few months Mike had bravely stood up to the loss of his second leg for medical reasons. Mike lost the first leg on his way home after graduation in a motorcycle crash.
Mike is shown here in the Lost Gardens of Heligan during the 2009 St Austell Cornwall reunion. He was also at the 2008 North Wales reunion. He left his camera behind in a local town; the police traced it to him by the registration number of his classic car shown in one of the images.
Our thoughts are with his wife Carol.
---
15 July 2016
I have been phoning around our members' list while organising a pub lunch for those living in the south west (16 August in Bridgwater) and generally checking out our records. I am sad to have discovered that the following have gone to their last posting: Harry Reynolds, Brian Falconar, Tony Akehurst, Robert Selby, Bob Whayman.
---
6 June 2016
This year's reunion will be in Cork, Ireland. The reunion dinner will be on Tuesday 20th September. The reunion will stretch from Monday evening 19 September to Friday morning 23 September with various interesting events. Jim is currently sorting out a hotel. Presumably he will be able to arrange flexible bookings as usual for those who cannot be there for the whole period.
Please contact chairman Jim Thompson if you are interested. See his final detail on the reunion here.
---
12 January 2016
From Terry Brook:
At last I have the time to make contact. When I left the service I started a charity for people with learning difficulties which I managed for 10 years. I really loved every day as I did in the service, unfortunately the AGM and accounts were always due in September and October making it impossible for me to attend reunions. I have followed the web site continuously and greatly enjoyed the memories. When I finally retired we moved to France permamently, near Perpignan.
Colin Franks and I were both posted to Middleton St George together. Colin, Brian Cruse, Ray Botten and Tony Foster were great friends also Tony Oxby. My wife just bought me the Halton Apprentice book by Bill Taylor, a great read. Best wishes to you and yours for 2016.
Yours
Terry Brook
---
22 August 2015
The planning for this year's reunion in Yorkshire is going well. We would welcome the widows of any of our deceased members at this and future reunions. If you know of somebody who might like to go please contact Jim Thompson.
---
22 June 2015
This year's 87th entry reunion will be held at Nidd Hall Hotel, Nidd Hall, Harrogate, North Yorkshire, HG3 3BU on Monday-Thursday 12-15 October. The reunion dinner itself will be on the Wednesday night. Prices are being negotiated. There will be no single supplement.
Please contact Jim Thompson with any queries and to let him know your expected availability for the reunion. Jim looks forward to seeing you all at this Reunion and would make a special appeal to all you living in the region to come along and enjoy a fun midweek break and the joy in our companionship which seems to richly grow with our advancing years.
---
30 April 2015
We have been informed by his son Chris of the death of Mick "Spider" Webb. Tony Moss who knew Mick in Germany had also notified us of Mick's death. Chris Webb wrote:
"I'd like to let you know that my dad, Michael Webb (Webb MJ armt), sadly passed away recently. He had been suffering from Dementia and Alzheimer's disease and had been in a nursing home for a year prior to his passing. He is survived by my mum, Carole, who, thankfully is still in good health. They met at RAF Bicester, where she was a parachute packer, and were married, until his death, for 52 very happy years."
I was lucky enough to take my dad back to Weeze (RAF Laarbruch as was) a few years ago, whilst he was still healthy. He had been posted there in the early to mid 60's, and I was one of the numerous children to have been born at the RAF Hospital in Rheindahlen!
I was hoping you would be able to put a note on your News page.
Thanks for your time in reading this, and I know that though out my dad's life, he looked back on his days at Halton, as some of the best days of his life.
---
25 October 2014
We have been informed of the death of Keith Elliot. Below is the interesting message received from Keith in 2008 when he traced us via the internet. It is so sad to see that he has entered "the dreaded green".
Message from Keith in 2008
"HI Chris. Well I cannot get over my complete amazment at finding all this gen,which came about by trying to
find Rog Black,still a missing pal.Also to see myself in Gus Turnbulls pictures was a shock that put my
Bi-pass to the ultimate test.I sent him(Gus) a quick "e" mail but no reply as yet i hope i
got the address correct off your website.I was in the next pit to him for a long time Block5 Room4 ,also I
see Trevor "bugs" Bunce is thriving,and keeping out of the dreaded green on the website.I felt quite sad
to see so many gone on the list.
Well i am now well retired,and living on Anglesey helping my wife out in her
card shop where I am senior beverage manager,and leading floor hygenist (Dyson *** qualified)also
according to her a pain in the XXX.Please let me know if you need any info to put me on the site.
Cheers Keith Elliot"
---
7 July 2014
Jim would like an early message from you once, like me, you have been able to decide on your attendance. Jim wrote in his email:
" At this stage I would really appreciate an early indication of your intention to attend as the more rooms we can book gives us a bit more bargaining power in negotiating the best deal for us, although I think it might be a bit tough to get better terms than those already offered. I look forward to seeing you all at this Reunion and would make a special appeal to all you living in the region to come along and enjoy a fun midweek break and the joy in our companionship which seems to richly grow with our advancing years."
---
22 June 2014
It is confirmed that our reunion this year will be held at Thoresby Hall, Nottinghamshire on Wednesday 1 October. Please contact Jim Thompson if you have not received the details.
---
1 June 2014
It is very likely that our reunion this year will be held atThoresby Hall which is near the A1 in Nottinghamshire. A date for the reunion is currently being worked on.
---
9 March 2014
Jim Thompson is working on our next reunion. At the last reunion, near Loch Lomond, it was decided to look at Malta or the UK midlands for the reunion. Personally I prefer Malta (not been there since early 70s). Let us know your preference.
---
9 March 2014
Just spoken with Jim Thompson who told me that Keith Elliot died recently. The news came from Gus Turnbull.
---
12 September 2013
Ed Neal (Inst Fitt Nav) has found us via the web site. Ed lives in Fareham and looks forward to communicating with old friends. Ed found us when he met a 98th rook while out walking the dog; he told Ed about our website.
---
18 August 2013
Don't forget the 87th entry reunion which will be Saturday 21 September in Loch Lomond
Jim Thompson has negotiated very good and flexible rates for your hotel stay in Loch Lomond at the Winnock Hotel, whether short or long.
An allocation of rooms has been booked under the name RAF Halton Reunion. In making a booking (01360 660245) you will need to quote this named allocation of rooms when calling or writing to the hotel, because if you just ask for available rooms you could be told that the hotel is fully booked.
A coach excursion around the Trossachs, as the area is called, is proposed for the Saturday, to include a steamer trip on loch Katrine plus lunch and tea.
The Winnock have offered to put on a Ceilidh Night on the Sunday. The cost will be £5 per person wishing to participate in this shindig.
---
18 August 2013
87th member Barry Reilly (armourer) was found by Jim Thompson recently. It required quite a bit of detective work on Jim's part. We may even see Barry at the Loch Lomond reunion in September.
Barry was not with us for long, but once the 87th, always the 87th. Barry bought himself out in 1958 and joined the Grenadier Guards, staying for 6 years. Wow! What a glutton for punishment. He then became a teacher, finishing as a headmaster.
Perhaps Barry will write his life story for us to include on this site.
---
17 August 2013
I am sorry to have to report the death of Peter Pope a few weeks back. Peter had moved to Spain in 2009 near to Cadiz. Peter had gone on to the 89th entry but still attended some of the 87th events.
I remember that Peter worked at Britannia Airways in Luton, as an 84th chum of mine also worked there
---
27 June 2013
2013 Reunion in Loch Lomond Scotland - More Details
Last month Jim Thompson sent out an email to members giving more details on our forthcoming Scotland reunion which I reported below last February.
As promised, Jim has certainly negotiated very good and flexible rates for your hotel stay in Loch Lomond at the Winnock Hotel, whether short or long. The reunion dinner will be on the Saturday 21st September.
A coach excursion around the Trossachs, as the area is called, is proposed for the Saturday, to include a steamer trip on loch Katrine plus lunch and tea.
Booking forms will be sent out shortly.
---
12 Feb 2013
2013 Reunion in Loch Lomond Scotland
A reunion of the 87th entry will be held this year in Scotland on the weekend of 20/21 September, so brush the dust off your highland dress. Wonder where could I buy one? I must have a Scottish ancestor even if he lived in a cave umpteen generations back. What do I wear underneath the kilt - a Jock strap?
Jim Thompson has negotiated a very good rate at the Winnock Hotel, a truly excellent hotel in Loch Lomond. The hotel owner's father was once stationed at Halton so we should be made most welcome. There will be a coach trip on the Saturday night. The reunion dinner will be on the Saturday.
This reunion promises to be as good as last year which was in Louth on the edge of the Lincolnshire wolds.
So please contact Jim Thompson as soon as possible to show your interest.
---
John (Taff) Powell found us
Hi Chris I am John (taff) Powell armourer 2 wing 683463. I came across the web site by pure accident this afternoon - I was looking for a recipe for "Nelson Cake", as reminder of the NAAFI wagon et al, and good old google did the rest; you couldn't make it up could you? Very sad to see that quite a few of our entry have moved north and are no longer with us. I have read everything on the site and looked at all of the photos and was pleased to see how we looked way back then. I think the last members from the entry that I saw before retiring in 1996, was Pat Achilles who was OC Arm at Kinloss, Lenny Sutton at HQSTC, Bob Foggo also at HQSTC, Pete Monk was with me at Cosford. Until a couple of years ago I was still in touch with Jack McKee, alas he moved to Spain and I do not have his address or email, and I note it is not on the roll page. Reading through the nominal roll brought back happy memories, tinged with sadness for those in green. It certainly seems a long time since we were all at Aylesbury Town Hall dancing to Kenny Ball and his Jazz band and Bob Miller and the Millermen. Please feel free to add my email to the list. Regards John Powell
Received November 2012
---
2011 Dublin Reunion
A reunion is to be held in a hotel approximately 10 miles from Dublin on Friday, Saturday, Sunday 16-18 September 2011. The minimum stay is for three days half-board (including the Friday dinner and the Saturday reunion dinner, but excluding the Sunday dinner). The price is 177 euros per person sharing a double room. If you wish to attend the Saturday reunion dinner only, then you will have to provide your own accommodation and the reunion dinner cost will be 35 euros.
Contact Pat Green for further details, although an email with details was sent out to all known 87th members with email on 29 May. Only a few members have so far signed-up for the reunion, so please contact Pat as soon as possible.
2 July 2011
---
A visit to the Duxford Air Museum is being arranged for Tuesday 5 April. Chris P-J and Bob Acott are travelling across for the day after a night stop en route. Contact me or P-J if you would like to join us
22 March 2011
---
Phil Williams (Elect) in Oz found us via the 87th web site and wrote as follows:
After wanting to make contact for so many years finally made it , I am the wife of Phillip Ivor Williams ( P I Williams elec ) on your 87th Entry Membership list , there are a few members looking down the list that Phill ( to his friends ) would love to make contact with , browsing the Internet I found you . We have been living in Australia since 1980 but have made frequent trips to the UK & Europe over the years , 5 years ago we retired from our business living in a lovely part of Queensland Bundaberg , we see more too of our three children and eight grandchildren. We were married in 1963 in Hampshire and would like to make contact with our Bestman Victor Driver and RD Acott Bob . Phill went on to Lightening MK-3/6 Flt Simulators from 1962 - 1970 mostly at RAF Binbrook with the last 2 years in Cyprus @ RAF Akrotiri . Would appreciate any information you can forward.
------------------------------
Phil also passed the info below to Gus Turnbull after contact via the RAF Forum site:
We retired from our business 5 years ago and besides traveling and catching up with family , friends and my Wife,s never ending list, enjoying life .
On leaving RAF Halton I got posted to RAF Chivenor along with Vic Driver and worked on front line servicing on Hunters , then 2 years later we applied for Simulators and ended up in RAF Binbrook on the Lightning MK3 Simulators from there in 1968 I did a 2 year stint in Cyprus on 56 SQD Flt Simulators .
I enjoyed my 12 years in the RAF .
After that I worked at an Oil Refinery , very different but equally rewarding for 9 years . In 1980 we emigrated with our 3 children to Australia bought a Service Station ( petrol ) in Bundaberg QLD ( where we still live ) from there we bought another S/S also an Avis Rent A Car Franchise which we owned for 26 years until we retired in 2006 .
We are going to Sth Africa in Jan 2011 , after a few days in the Kruger Nat Park , we then move on to Cape Town where I hope to catch up with the Lightnings ( which are now based there ) before we Cruise back on the Queen Mary 2 to Australia from Cape Town .
30/9/2010
---
I stayed last week with Tony Moss in his guest house in Louth which is on the edge of the beautiful Lincolnshire Wolds. In my opinion Louth is one of the most attractive towns in England. It is well worth a visit, and Tony runs an excellent quality guest house there. Tony very kindly invited local 87th entry members for a night out, but as it was short notice on my part, only Mike Crawford who lives near Grimsby was able to attend.
Dave Southwood has been running a post office just around the corner from Tony's guest house for the past 27 years. Heading south on my way home I called on Len Sutton in Horncastle. Len had just finished a stint as a guide at the Battle of Britain Memorial Flight.
We have many members in Lincolnshire and they are keen to have next year's reunion in Lincolnshire where there are many items of interest, particularly pertaining to aviation.
11/8/10
---
I apologise for not having added to this site for more than a year. Things should now proceed as normal.
11/8/10
---
Brian Singleton of the 84th wrote this week:
I am trying to locate an ex 87th member, 683581 A/A Martin, block 6 room 2, 2(A) Wing. Bas ) as I new him playing trumpet in a jazz band on camp called The Chiltern Valley Feetwarmers, in which I and three other 84th guys also played. The attached photo show him and some of the other members in the camp theatre. He by the way is on the extreme left.
Regretably Barry Martin died a long time ago. Does anyone know how and when Bas Martin died? I have a feeling that Dave Green told me it was an explosives accident. 2/5/09
---
Welcome back to Bernard Pink (ex83rd engine fitter) who sends the following message:
I have only just come across the website. I was searching for a few names and up it popped. It was a blast from the past.I have not been in contact with any ex brats since I left the service in 1984. Have had a quick look thro the site. Impressed. Lots of names that I recall,sadly a few who are no longer with us. I live in Peterborough. I "think" (?) I would be interested in "joining up" again. Would like to be remembered to Ron Bean (ex 86th) Regards Bernard PS Nearly forgot,I'm the one who came down from the 83rd (engines) AND also missed the Passing Out Parade as I was excused rifle drill... ha ha. 14/3/09
---
Welcome to Barry (Bert) Price, a rigger who has just found us and sends the following message:
I have just been pointed in the direction of the 87th website by a golfing friend (Roger Skinner) ex 79th. I am enjoying retirement playing golf and holidaying - Australia, Japan, China, Kenya to name a few. January is booked for a trip to Egypt.
One or two of the Airframe group and the footballers/cricketers may remember me from the Halton days.13/12/08
---
I came across Doug Cadogan at the Farnborough airshow in the mid 90s. I wrote to him in 1999 via RAF Records and received a reply in which he referred to the fact that he had seen a picture of Wally Waldron in his father's (ex 17th entry) copy of the latest Haltonian being blanket tossed on his birthday.
Doug came to the reunion at Solihull in 2000. Unfortunately we have lost touch with him. I must write to him again via RAF Records. 13/12/08
---
This web site is 10 years old this year. In October 1997 at the Queen's unveiling of the Halton Apprentice Tribute, I sat down for lunch opposite these people; the ladies on seeing my 87th name badge said "We're 87th!". It was Trevor Bunce, Brian Leonard and their wives! Following this meeting I started to hunt down our members. First in of course came 20+ from our Entry Rep the late Dave Green. An internet search produced most of the rest (now too expensive, unless you know the town they might live in, as for Paul Sellers, Mick Webb, and Jock Finlayson whose mother still lived there), plus personal knowledge of other members. Our subsequent first 87th meeting was also 10 years ago: at the 1998 Halton Triennial Reunion, where over 30 members out of 100 traced attended, being one of the biggest entry contingents present.
If you know where any of our unfound members might live, please let me know. Also if you know any of our lost members who would be drawing a service pension then I could forward a letter to them via the RAF Record Office. 13/12/08
---
Mike Campbell was at this year's reunion with his wife Carol. He left his camera behind in Betsw-y-Coed. Somebody found it and took it back to Liverpool to hand in to the police, there beeing no police station where it was found. The police were on the ball as they inspected photos and saw Mike's classic MG car reg EYH 214; they checked on the owner and forwarded the camera to him.
Mike was medically discharged shortly after leaving Halton as on the way home riding his motorbike (how many of us had one at Halton!) with the late John "Halifax" Crowther on the pillion, he lost a leg after an accident Mike wrote to me in 1998 giving me the addresses of John Crowther, Terry Corber and Colin Brown.13/12/08
---
Mike Smart (87th Elect) is still living in Norwich, but is not able to drive any longer. He came along to the first Norfolk barbecue in August 2000 and brought along his
size 14 boots
.
7/12/08
---
The next reunion as reported to members 8 October by email will be held 19 September 2009 in Newquay to commemorate 50 years since summer camp. Mike Stephenson who lives at Bodmin is currently checking out hotels. Further news will be sent out shortly by email
21/11/08
---
Tony Sharley(airframes) was discovered recently, by Gus Turnbull, living in Spain.
13/9/08
---
Derek Hogarth, living in California, finally retired not long ago and has bought himself a nice retirement car: a two seater
Crossfire
.
15/6/08
---
Keith Elliot (Airframe) found recently on the Friends Reunited site
1/6/08
---
I was pleased to have found lurking on the Friends Reunited site listed under No 1 S of TT two 87th armourers: Dave Gilbert and Mike Hodge. 2/5/08
---
I am sorry to report that Ernest Lumley died 18 months ago. Ernest retired near Bury St Edmunds after a career in the prison service culminating in the position of governor of a high security prison in Suffolk. 7/4/08
---
The 2008 entry reunion dinner will be held in Wales on Saturday 20th September. More details will be available in the next 2-3 weeks. 26/1/08
---
I regret to announce that Brian Crosby died on 23 September 2007. 23/11/07
---
I discovered today that Alan Reynolds (Elec) died in June 1998. I was informed by an 87th Locking school friend of his who had being trying to trace him. Family history research showed up his early death. 24/9/07
---
I regret to report the death of Roger Wigley (3/6/07). Roger was member of the Norfolk branch and attended at least two of Bryan Leonard's Norfolk barbecues. The 87th were represented at the funeral by Trevor Bunce, Bryan Leonard and Reg Roberts. 30/06/07
---
The next reunion will be held on 22 September 2007 to coincide with the Triennial reunion at Halton. This reunion will commemorate the 50th anniversary of our arrival at Halton in September 1957 20/10/06
---
Sadly I must report the death (2/3/06) of Bill Hall. 10/3/06
---
David Stephens found us today via our web site. Dave has been working in Quality Management since he left the mob.25/11/05
---
After a successful reunion near Belfast recently it was decided that the next reunion will be held somewhere in the Midlands on the first weekend of October 2006. 4/10/05
---
Jack McKee and David Andrew found us recently via this web site.4/10/05 Sadly I must report the death (22 June 2005) of Colin Brown. 5/7/05
---
It came as a shock to learn of the recent death (9 June 05) of Lester Rawlins after a short illness. Lester was a regular attendee at reunions and I well remember him bringing his mobile home across to France to provide us with transport at the St Malo reunion. 17/6/05
---
Sadly I must report the death (27 March) of Dick Heaton, 3Wing Armourer. 30/3/05
---
John McManus found us recently via this web site. John was posted to Manby. He left the RAF in 1964, but then took over his WO's job as IC Electrical Section as Manby became civilianised. In 1973 John worked for a year in Riyadh with BAe. On returning to the UK John spent 5 years running a pub followed by several years managing private clubs. 30/3/05 Sadly I must report the death (July 2004) of Mick Murphy. 6/1/05
---
With regret I must report the death on 18 December of our chairman Dave Green. 31/12/04
---
Sadly we have recently been informed that Brian Morrison has died after a three year fight against cancer. In typical Brat fashion Brian defied medical science right to the end. I remember Brian attending one of our reunions even though we had traced him only the day before. 20/11/04
---
At the recent reunion it was decided that the 2005 reunion will be held in Northern Ireland on 24 September. 5/10/04
---
Tony Lawrence traced after meeting up with another Brat while on holiday. Tony is currently a dealer in stamps and postcards. 7/9/04
---
John Voisey just traced after help from my cousin and RAF PMA. 16/1/04
---
Barry Edrich has just been traced, sadly as a result of the reporting of the death of his father. 12/1/04
---
The Halton Golden Oldies band desperately needs new recruits. If you were in the band, and feel like playing again, please contact 87th tenor drummer Michael Rodd. 27/12/03
---
A two-pronged trace has been applied to Vic Hosking via the electoral role and RAF PMA. Michael Rodd, who lives only a couple of miles away from the likely address, has volunteered to check if Vic really lives there. On visiting the address, unfortunately Michael found that Vic had moved leaving no forwarding address. 27/12/03
---
Forgot to mention that Gordon "Jock" Will was traced a few weeks back. Sorry about that Jock. 27/12/03
---
Traced Dickie Heaton today. 14/12/03
---
A couple of weeks back I managed to trace Mick "Spider" Webb. Having been told the name of his home town, I set out to trace his family. I struck lucky on the second call, finding his mother. In fact Mick had moved back to his hometown. I wonder how many of us did that? 13/12/03
---
Following members traced in recent weeks: Gerald Beament; Brian Turner; Jock Finlayson; Stewart Belsey; Cadwallader; Michael Hawker; Frank Turnbull; Tony Foster. 24/11/03
---
The next reunion will be held on the same day as the next Halton Triennial Reunion which is Saturday 25th September 2004. 8/10/03
---
Sadly Ray Botten traced but found to have died. Tony Oxby and Ian Tilsley are also posted as having died recently. 8/10/03
---
More members found in the past month: Peter Colk; Alan Goodburn; Tony Hilton; Peter Davison; Peter Harmsworth; Charles Hunn and very probably Ray Botten. 20/7/03
---
Al Murray's talk on his book "40 Years in Aviation" went down very well at the St Neots branch of the RAFHAAA. 19/7/03
---
I have started using an internet search tool which is based on the Electoral Role. I am having significant success and have traced: Alan Bantick; Ernie Lumley; Roger Brinn; Michael Dart; Brian Falconar. In addition I have several other likely traces such as ML Wagge and CS Gosbee, but as they are ex-directory I need to write to them to get confirmation. 11/5/03
---
Al Murray will be giving a talk based on his book on 40 years in Aviation at the St Neots RAFHAAA branch (in RAFA club) on Thursday 29 May at 19.30. Please attend if you can, to give him your support. 18/4/03
---
I was very pleased to have had a long chat with Patrick Cull this week. He found us via an advert in the RAFA News for our 2003 reunion, placed by Dave Green. 18/4/03
---
Dave Allen is really pleased to have found Tony Akehurst whom he both went to school with and joined up with, amazingly living nearby in the same area where they were both brought up. 14/2/03
---
The next reunion will be held in the vicinity of Dave Green's place near Aberdeen on the weekend of 27/28 September 2003, not one week earlier as previously notified. Sorry for my mistake!! 22/1/03
---
Charles Davis has recently been traced in south east England. I visited him for a swift half while passing his way recently. 22/1/03
---
Wil Beare (75th Halton) has kindly just notified me of the whereabouts of Harry Reynolds (Engines). He is number 171 out of 391 that we have traced. 3/1/03
---
Dave Allen, Inst Fitt Gen and Piper found us via this site 20 December. I have put up a Summer Camp page in his honour as he is leading the band parading the 87th banner. 3/1/03
---
The 87th had a very successful reunion in St Malo, France on the weekend of 21/22 September. Watch out for photos on this web site. 1/10/02
---
I received the following mail informing me of the death of John Markwick. Pity we did not have contact with him.
Hi Chris
Sorry to have to let you know of the death of John Markwick,he passed away on August 4th this year after a long battle against cancer. I first met him at RAF Shawbury in 1959 & we have remained in touch all these years.
He was my best man & he was mine. His final address was in Leeds where he worked for the British Museum library .
By the way I am ex 86th but was relegated to St Athan; on passout was posted to Shawbury. I enjoy looking at your site as 86 don't seem to have one,all the best.