No 87 (United Provinces) Squadron
Maximus me metuit ("The most powerful fear me")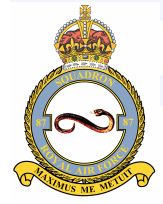 87 Squadron RFC was first formed on 1 September 1917 at Upavon from elements of the Central Flying School. On 17 December 1917, it moved to Hounslow Heath Aerodrome and was equipped with Sopwith Dolphin, moving on to France in April 1918. After the armistice, the squadron moved back to England and was disbanded at RAF Ternhill on 24 June 1919.
87 Squadron was re-formed on 15 March 1937 at RAF Tangmere from elements of 54 squadron, operating the Hawker Fury.
87 Squadron spent the Second World War as a fighter squadron, first with the BEF in France, then with Fighter Command, until at the end of 1942 moving to the Mediterranean, taking part in the campaigns in North Africa and Italy and over the Balkans.
During the Battle of Britain 87 Squadron were operational in 10 Group (south west England), based at Exeter (July - November 1940).
More details of 87 squadron can be seen here.
87 Squadron was again re-formed as part of the 2nd Tactical Air Force in Germany on 1 January 1952 at RAF Wahn with the Gloster Meteor NF11, with the main tasking being the defence of the Ruhr; after five years it moved to RAF Bruggen and was equipped with the Gloster Javelin as an all-weather interceptor force until it was disbanded on 3 January 1961.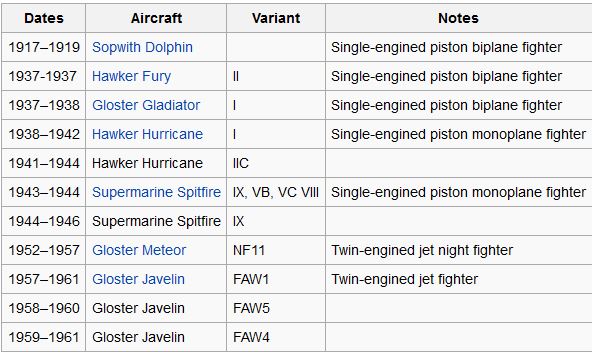 World War 1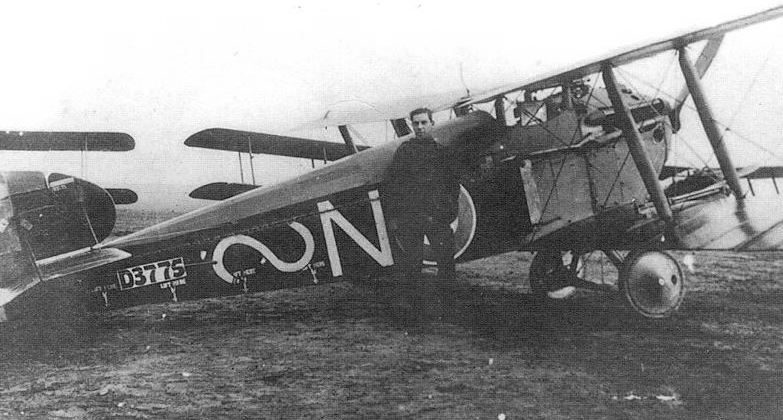 A Sopwith 5F.1 Dolphin of No.87 Squadron in France, 1918 - the squadron's "lazy-S" unit insignia of that time is painted in white.
World War 2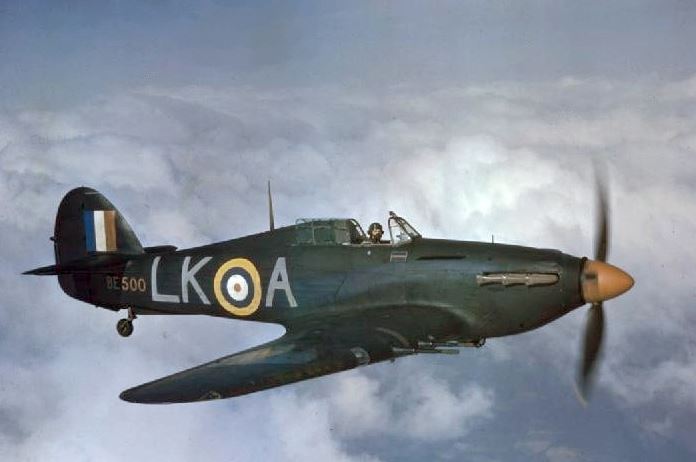 87 Squadron CO Sqn Ldr Dennis Smallwood, DFC, in his Hurricane IIC, in early 1942.
Citation for the award of the Distinguished Flying Cross
" Acting Squadron Leader Denis Graham SMALLWOOD, (40645), No. 87 Squadron.
This officer is an exceptionally, keen and skilful pilot who has rendered excellent service, 1 especially in night flying operations. In the recent combined operations at Dieppe, Squadron Leader Smallwood led his squadron  on two low
level attacks on gun emplacements in the face of strong opposition from the ground  defences; his leadership proved a valuable asset. By his personal example, he has contributed materially to the high standard of morale and efficiency of his squadron."
(London Gazette - 22 September 1942)
1 Feb 1974:     Dennis Smallwood became AOC in C, Strike Command.